Utopia Farmers Market
(Every Saturday 10am - Noon; unless raining or too cold)
March 8 & 9, 2013


8th Annual Frio River Freedom Fest
BBQ Cook Off & Music
We have lodging only minutes from the festivities.
Visit Friolodging.com to book your stay.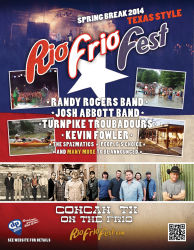 March 11 thru 15, 2014
Spring Break 2014 Music Festival - Rio Frio Fest
Kevin Fowler, Randy Rogers, Josh Abbott, Peoples Choice, Turnpike Troubadours & more!
Five days of Great Music; Plus Washer Pitching, Volleyball Tournaments & More!
For more info go to - www.RioFrioFest.com
Ask RIO FRIO LODGING for a TICKET DISCOUNT CODE
to receive 15% off on your online ticket purchase
Tickets must be purchased by February 1, 2014 in order to receive the discount

www.friolodging.com Call 830-966-2320
Book your Stay with Rio Frio Lodging to Get your Discount Code & tickets before Feb.1, 2014!
April 5 & 6, 2013


Texas Deer Association Pachanga BBQ Cook Off
Washer & Horseshoe Pitching Tourney, Helicopter & Pony Rides, Rock Climbing
@ House Pasture Cattle Co. Restaurant & Music Venue
Music by Kyle Park
We have lodging only minutes from the festivities.
Visit Friolodging.com to book your stay.
April 12 thru 14, 2013
Mens Sacred Journey Retreat
You will live the experience of the book "Golf's Sacred Journey" as you join other men from around the world on a great "Adventure." Dr. Cook will lead you on a spiritual journey based on the principles from his book that will culminate in the burying of lies in the cemetery on Sunday morning. You will also receive a dose of mental game instruction along the way and experience the Lost Maples Café, pitch washers, test drive Face-On putting, play the Links of Utopia, take a dip in the clear waters of the Sabinal River (weather permitting), hit a shot from beneath the great oak tree, watch the movie one evening and enjoy a world class meal at the famous "Laurel Tree" Guest Table Restaurant on Saturday evening.
Conference fees: $600
Includes a round of golf at the "Links of Utopia", two dinners, and 4 sessions including watching "Seven Days in Utopia" movie with Dr. Cook.
For more information or questions, contact
Tracy@LinksofUtopia.com
Save the Dates Now for Nature Quest 2015
15th Annual - April 29, 30 & May 1, 2, 3, 2015
Birds, Bats, Butterflies & More!
The Best Birding and all-round Nature Festival in Central Texas.
New Programs include - Nature Photography - led by Kathy Adams Clark & Gary Clark
Native Landscaping for Wildlife – Kelly Bender
Plus Hummingbird Banding with Kelly & Donna Bryan / Charles & Nancy Floyd
Click here to go to the site
May: Utopia Ranch Rodeo & Dance (Sunday of Memorial weekend) @ Utopia Park on FM 1050
June: Utopia Rodeo & Dance - Rodeo, BBQ & Dance (4th Fri. & Sat.) @ Utopia Park on FM 1050
July 4th: 4pm Parade in Utopia & Fireworks @ Dark in Utopia Park on FM 1050
July, 2013
July Jubilee – Courthouse Square Leakey Texas
July 5&6 - Old Time Street Dances
Friday & Sat- 8pm Downtown Square
Sat, July 6 - 10am - Hometown Patriotic Parade
Plus 8am-4pm Arts & Crafts/Food Vendors
Sat, July 5&6 - RODEO 8 PM
on 336 North of Leakey - Bareback • Calf Roping • Bull Riding
Saddle Bronc • Steer Wrestling • Ladies Barrel
September 7, 2013
24th Annual Frio River Trash Bash
ON THE FRIO RIVER FROM FRIO CAÑON TO CONCAN
Come help us conserve the clean, natural and beautiful environment of the upper Frio River.
Look for list of River Captains and other information on Facebook or in your local paper.
September 11, 12, 13, 2014
6th Annual Utopiafest Music Festival - Utopia Texas
Fantastic Bands all day & night!
Kids Entertainment, Adult Yoga, Disk Golf, Hiking mornings.
Food & Drinks for Sale, or Bring your own.
Bring your chairs & Enjoy all day!
www.utopiafest.com
October 11 & 12, 2013
Fall on the Frio - 5 K Run, BBQ Cook- Off, Bake-Off,
Washer & Horse Shoe Tournaments, Vendors, Kids Games, Live Music.
Family fun on the Frio River!
Live Music during the day & Saturday Night!
Come support the local Concan Fire Department while tasting some of the best BBQ around! BYOB!
2 Days of Fun & Music to Benefit Concan Volunteer Fire Dept.
We have lodging only minutes from the festivities.
Visit Friolodging.com to book your stay.
November 2, 2013
UTOPIA FALL FAIR FEATURES ARTS & CRAFTS, FOOD, MUSIC
Utopia's 48th Annual Arts & Crafts Fall Fair will be Saturday from 9:00 am to 4:00 pm. Utopia Town Square is on FM 187 in the middle of town. Admission is free. More than 80 booths displaying handmade items cover the entire town square. Crafted items vary from jewelry to soap to photographs to wooden creations and much more. The high school senior class offers a wonderful BBQ plate lunch as a fund-raiser for their senior trip. Fair ambiance includes live music, face painting, and much more to entertain and experience.
November 30, 2013
Christmas on the Square - 9am to 4pm
Arts, Crafts & Food Booths - See Santa from 10am to Noon & 1pm to 3pm
Frio Canyon Chamber of Commerce - Leakey Texas